Home Page
Site Last Updated24th March 2023




Thanks for visiting my site. I hope you find it informative, interesting and worth your trip here. :-) Please don't forget to click "refresh" on each page of the site for the most updated version of the page.

What's NEW?

I have updated the 'About' page with a summary of the state of play of the rail industry within Queensland.

Click here for a summary in PDF format of major rail spending as announced by the Queensland State Government in their last budget announced 21st June 2022. Information source, page 18 Railway Digest, August 2022 editon.

Latest photo gallery upload includes photos of the beautifully refurbished ex Queensland Rail Carriage CLV 1077 now repurposed as accomodation at Mt. Nebo Carriage and Chalet resort. Also, a new gallery of images of Walkers/Caterpillar DH Class locos I have taken over the years.

Latest video upload includes short footage of Queensland Pioneer Steam Railway's Loco 5802 hauling a set of heritage timber carriages into their Box Flat yard on the running day of 26th June 2022. Also, from the 11th May 2022 footage of rail action in and around Ipswich stabling yard on a very rainy afternoon.


What's this site about?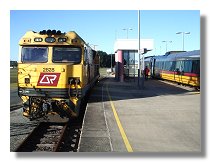 First of all and probably most obviously, this site is NOT the official site of Aurizon, Queensland Rail, Pacific National, Watco or any other rail corporation whether in Queensland or in Australia, nor is it affiliated with any particular rail preservation, tourist or historical group. What this site is however, is a central point from where I can share photos, videos, links to rail related organisations and a little information of the current state of railways in Queensland, courtesy of rail tragic and author Arthur Shale. Trusting you find something here of interest.
Copyright Note: As always, copyright of each image or video remains with the owner. Provided relevant acknowledgement of ownership is given, permission is given for any image or video to be downloaded, shared or embeded for personal use and use on any personal or non-profit organisation's web site or social media page.
Feel free to comment, or make a CONSTRUCTIVE criticism of this site. I assure you I am far from being a railway expert! If you believe I have made an error with any information anywhere on this site, please let me know. Just click on 'e-mail me!' on the menu bar and drop me a line.
---
For their valuable assistance in the creation and continued maintenance of this site, special thanks go to my good mates Arthur Shale with his extensive knowledge of Queensland Railways and Dean Stalker with his input and advice on the site's design and site hosting.
---
I freely endorse, recommend and use the following products but receive no sponsorship from any of the companies mentioned.

No one shoud be online without a VPN programme or app! I recommend and use Nord VPN. Available for PC and Apple computers and Android and Apple mobile devices, one licence covers six devices of your choice! For the safest in on line safety check out Nord VPN Today. Click on the Nord VPN logo to check out their web site for the latest details, fees and deals.

Ad Blocker Ultimate is a web extension and mobile app that you also should have on your PC or mobile device. The web extension, available for all major browsers, is free whilst the app can be bought in monthly, yearly or a lifetime licence. Not only does it block all ads on all platforms including Facebook and You Tube it protects from phishing sites and web activity trackers Click on the Ad Blocker Ultimate logo to check out their web site.

Social Fixer is a TOTALLY FREE web extension designed to enhance your Facebook experience and rid yourself of the Facebook features you don't want and adds features you wish it had! Designed soley by Matt Kruse he asks for no fee but you can donate to help his efforts if you wish. It features a Friend Manager, Ad Blocker, Sponsored Posts Hider, a 'Most Recent' newsfeed forcer and tons more stuff you can tweak! Currently it's only availble as a web extension but a mobile version is in the pipeline. Click on the Social Fixer logo to check out Matt's web site.
This page Copyright Colin B Power 2023.
Queensland. Australia.
Site URL:- https://www.colinp.net
This site built and maintained using

Arachnophillia
an excellent totally free and fully functional Careware product designed by Paul Lutus.

---

Check out "Calvus TV", a Facebook Page by Arthur Shale featuring high quality videos of rail action in North Queensland. Well worth a look!
---
While you're there on Facebook, why not check out these Railways of Queensland related Facebook groups!

QRIG.org (also host
server for this site)

Queensland Government
Railways, Days Gone By

The Junction for
Queensland Railways

Queensland Railways
Discussion Group

Signalling Record
Group Queensland

Aurizon Australia
Operations Group

Pacific National Rail
Operations (Queensland)

Watco Queensland
Operations Group

Queensland
Rollingstock Group

Fans of Gold
Coast Light Rail

Brisbane Tram Network
Appreciation Group

Australian Railways and
British Railways of UK
---

Railway Gazette International reports on rail related news worldwide, including Australia and Queensland. Simply do a search on their site for what takes your interest. Click on the logo above to head to their site.
---

How does a diesel electric loco or a steam engine work? Thanks to 'How Stuff Works' you can find out how and lots more!
How does a
Diesel Electric Loco work?
How does a
Steam Engine work?
What is a
Funicular Railway?
How does a
Maglev Train work?
Back to Basics
How Trains Work.