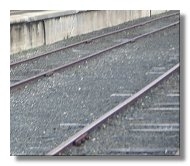 (Click here for Queensland private site links.)
(Click here for Queensland corporate site links.)
(Click here for Australia wide heritage and private site links.)
(Click here for worldwide sites on Australian Rail.)
(Click here for a portfolio of sites that I have built.)

Links to Queensland Railway Specific Sites.


Heritage/Tourist Railway Sites.
Railway Enthusiast's Private Sites.
Links to other Australian heritage and private sites.
Random pages found on Queensland Railways from sites around the World
The Signal Box Extensive information on signalling infrastructure in Australia including Queensland.
Other sites that I have built for myself and others
Amberley Brass is one of a handful of brass only bands left in Australia. Based at RAAF Base Amberley, Queensland, the band is a volunteer band comprising of currently serving service personell, retired service personell and civilians.

The story of the Alfa Romeo Alfasud - An Australian Perspective A scaled down and reworked version of a site I built on Alfasuds many years ago. I thought the work I put into it and the info was still worth throwing on line for any who may have an interest in the poor old Sud!

This page Copyright Colin B Power 2020. Qld. Australia.